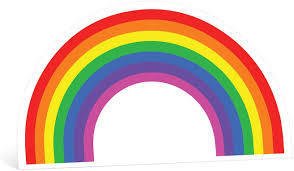 Mrs Scully's Rainbow Challenge - When you are out on your daily walk or bike ride, why not tie a bright ribbon or strip of material to the school fence. Take a photo of you tying your ribbon or material onto the fence and send it into school and Mrs Scully will put it on the website. Hopefully it will decorate the school fence and make people smile as they walk past our school.
HOME LEARNING
We appreciate that it is not easy juggling family life, working from home and completing home learning. Our philosophy is do what you can, when you can, if you can. I have spoken to parents who have been doing lots of amazing things, who have been playing board games, teaching children new skills such as crocheting, cooking and even how to use the washing machine! I have been sent photos and videos of assault courses, presentations and even a home celebration assembly! You are all doing an incredible job.
We have produced some home learning ideas for Years 3 and 4 and Years 5 and 6. Please access them by clicking the links below. We have also signposted some really useful learning sites. See below.
In addition to the learning below, the children should read as much as they can.
BBC Bitesize has produced some daily lessons for children to access during the pandemic. Click on the image below to access the site.
Online Safety
Inevitably, children and families will be spending more time online during the lockdown. In this section there are resources parents and carers can use to get a better understanding of the issues and material to support.
There is support available to keep your child safe online. Below are some useful links to help parents and carers:
Something else...
Completely free for all children and families, the extraordinary collection of short stories, poems, essays and pictures has contributions from more than 110 children's writers and illustrators, including Lauren Child, Anthony Horowitz, Greg James and Chris Smith, Michael Morpurgo, Liz Pichon, Axel Scheffler, Francesca Simon, Jacqueline Wilson – and Katherine herself.
The collection, published by Bloomsbury, is dedicated to the doctors, nurses, carers, porters, cleaners and everyone currently working in hospitals. Just click on the image below!
This PDF contains 10 great e-books and magazines for children to read...
This book has been created to support children. Coronavirus: A Book For Children illustrated by Axel Scheffler.
Miss Voaden has missed her Reading Newsletter helpers, so she has had to manage on her own this time!
Why not read the new edition of the reading Newsletter.